What do economic models do, and to which extent do they help or mislead us in our understanding of economic reality and our framing of economic policy? How can we make decisions when we know too little about possible consequences, or our future values? Is economic inequality really increasing and, if so, is this unjust and a cause for concern?
This interdisciplinary two-year master's programme in Philosophy and Economics enables you to answer these pressing questions and to better understand, and ultimately shape the economy and our lives.
P&E Conference: Responsibility and Cooperation in Times of Uncertainty
Students from the programme are organizing the first Philosophy & Economics conference at the end of September. The 2-day conference will focus on topics surrounding responsibility and cooperation in uncertain times.
You can find more details on their website or on the event calender entry.
More Information
We now have a Facebook Page which keeps you up-to-date on what's going on in our programme.
There is also a mailing list that you can subscribe to in case you're interested in applying for the programme.
Quick Facts
Degree Programme Code: UA 066 642

Academic Coordinator: Felix Pinkert

Standard Period of Study: 2 years / 4 semesters (full-time)

Application period: each year between March and April

Programme Curriculum
5 Reasons to study P&E in Vienna
Dedicated interdisciplinary curriculum from day one:

Attend specifically designed interdisciplinary seminars in every semester of the programme.

Interdisciplinary faculty:

Learn from faculty from both departments, many of whom have specific interdisciplinary backgrounds and research interests in the areas of philosophy and economics.

Flexibility and optionality:

Choose between multiple specialisations, design your own specialisation, and attend a wide range of optional classes in philosophy, economics, and other disciplines.
Career opportunities:

The city of Vienna hosts many international organisations (OSCE, one of the UN Headquarters and many UN agencies) and non-governmental organisations which are ideal places to start your career.

Quality of life:

Vienna consistently ranks as one of the most liveable cities in the world. The city offers a rich cultural life and historical heritage, as well as beautiful surroundings that are ideal for sport and recreation.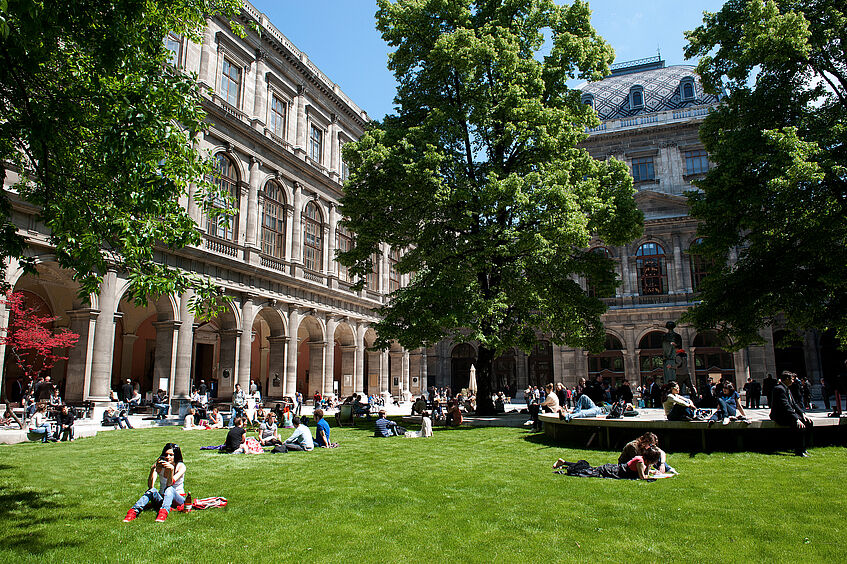 Next Steps: Application & Admission
Admission to the master's programme in Philosophy and Economics follows a competitive selection procedure. Applications for admission in the winter semester close on 30 April of the same calendar year.
Minimum entry requirements:
Bachelor's degree or equivalent degree in a relevant discipline. At the time of application, at least 150 ECTS credits of courses must have been completed (i.e. there is only one semester of full-time study remaining).
Successful applicants have typically studied philosophy and/or economics, or a related discipline such as political science. Students from other disciplines are considered, and have to explain the link between their discipline and this degree programme in the motivation questionnaire.

Knowledge of philosophy (including history of political thought, or political philosophy as taught in political science departments), as well as of economics (we recommend that applicants have at least taken one course in introductory microeconomic theory) corresponding to 15 ECTS credits each (equivalent to half a semester of full-time study). These courses should typically be completed at the time of the application.

Proof of sufficient English language proficiency (level B2) as detailed here.
More detailed information about the admission process can be found here.